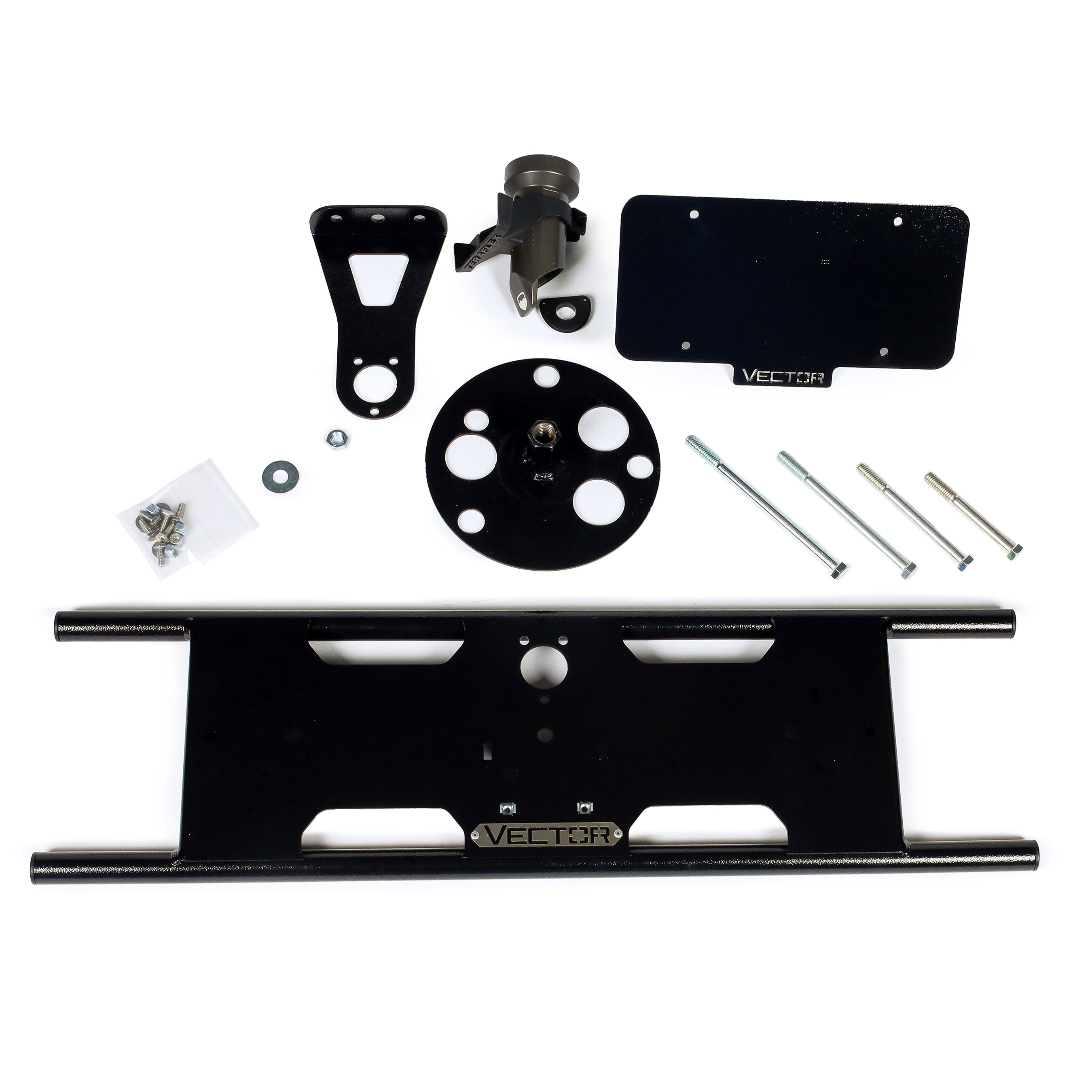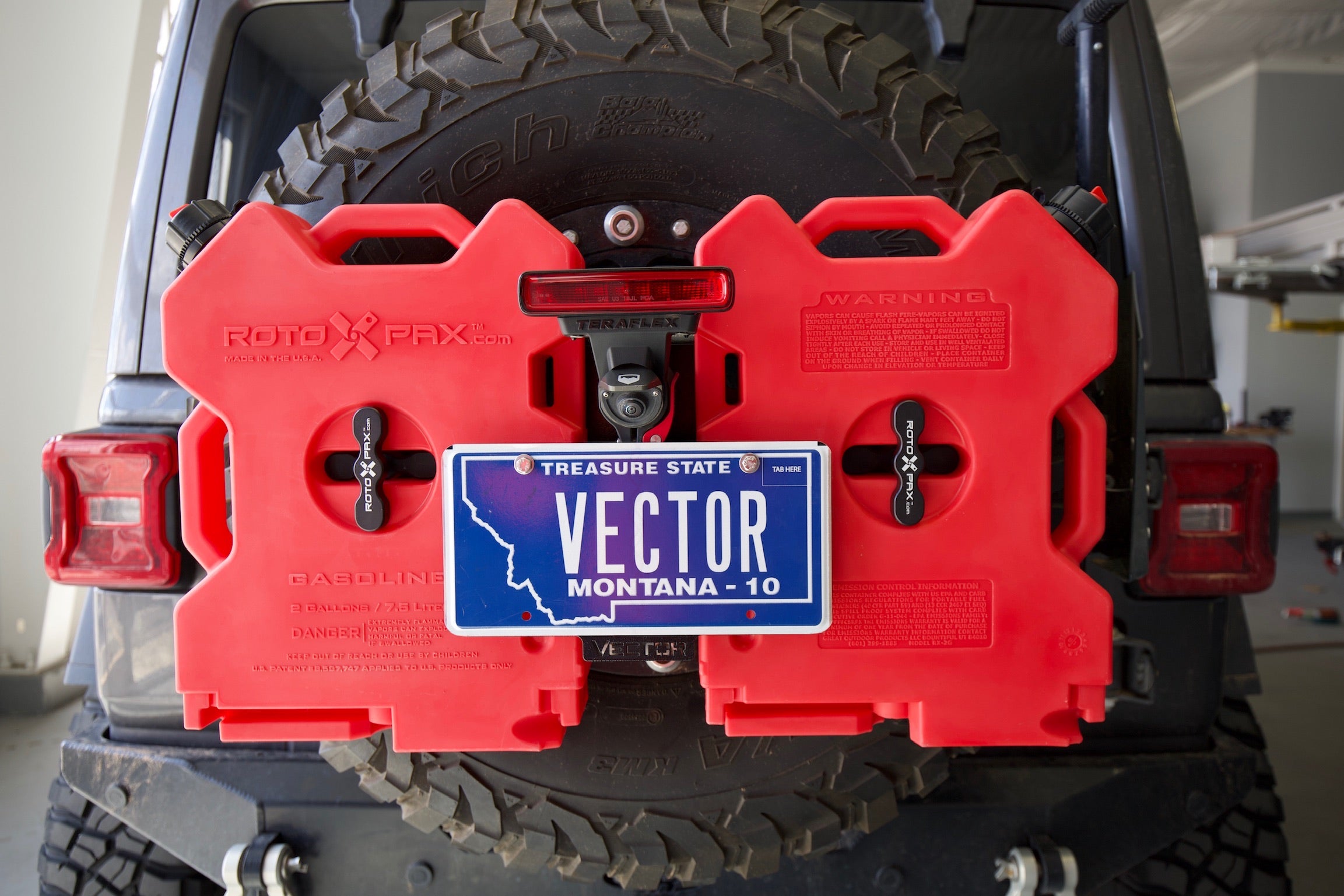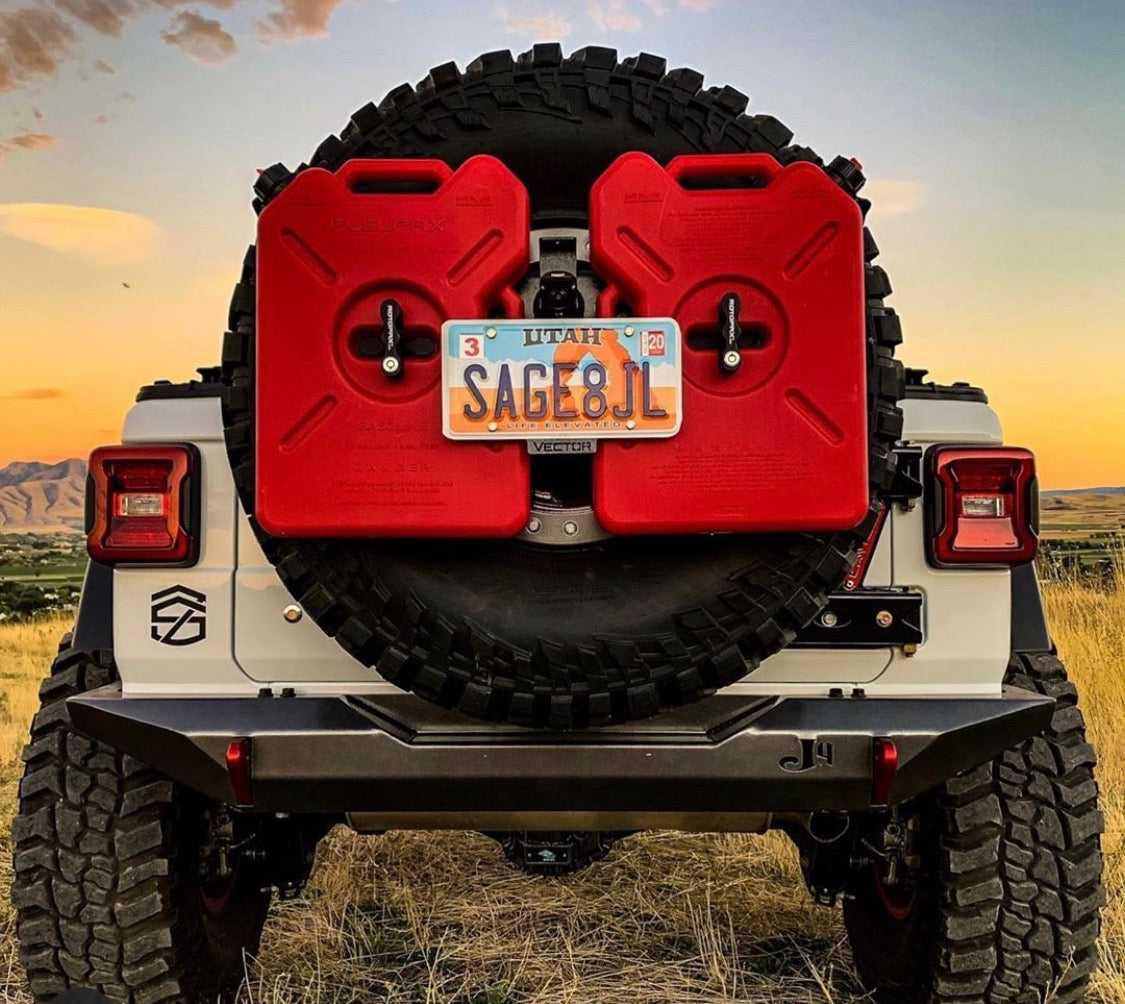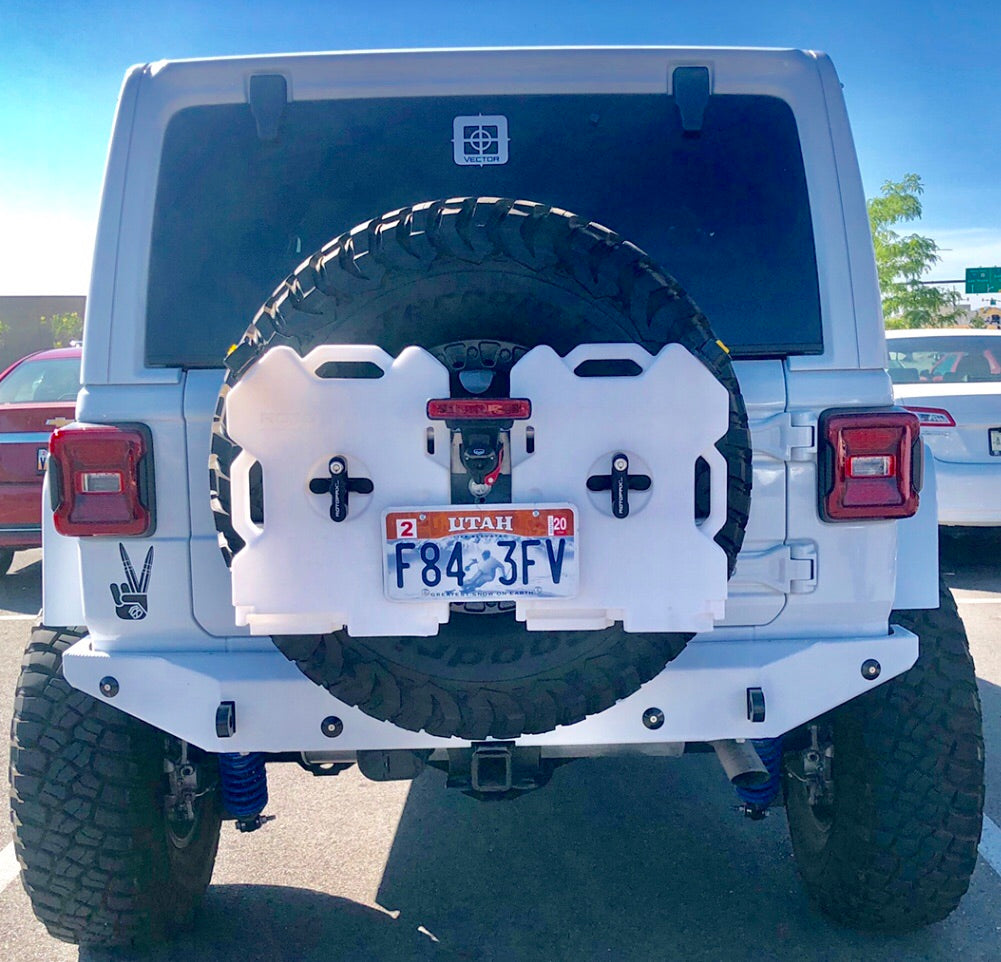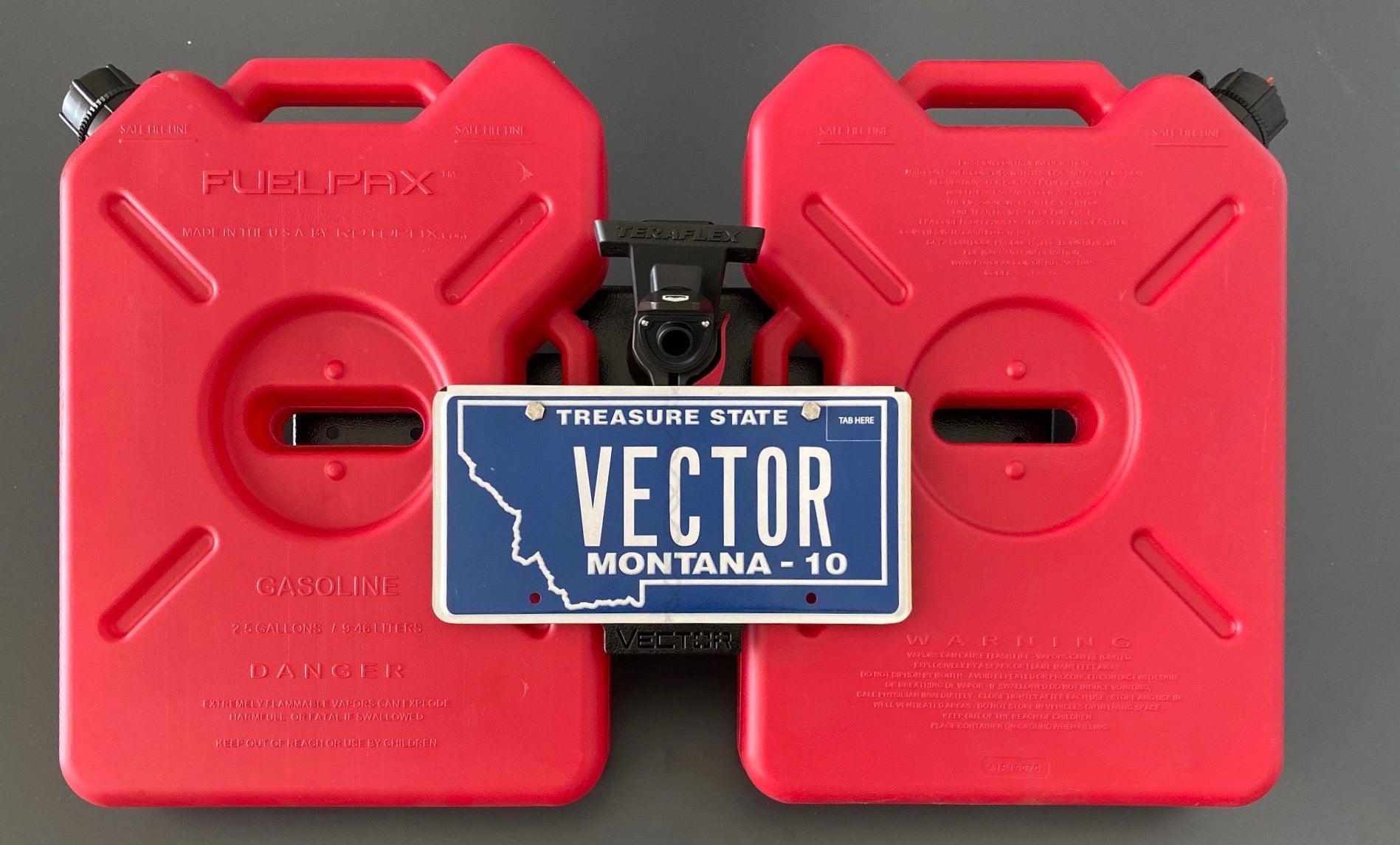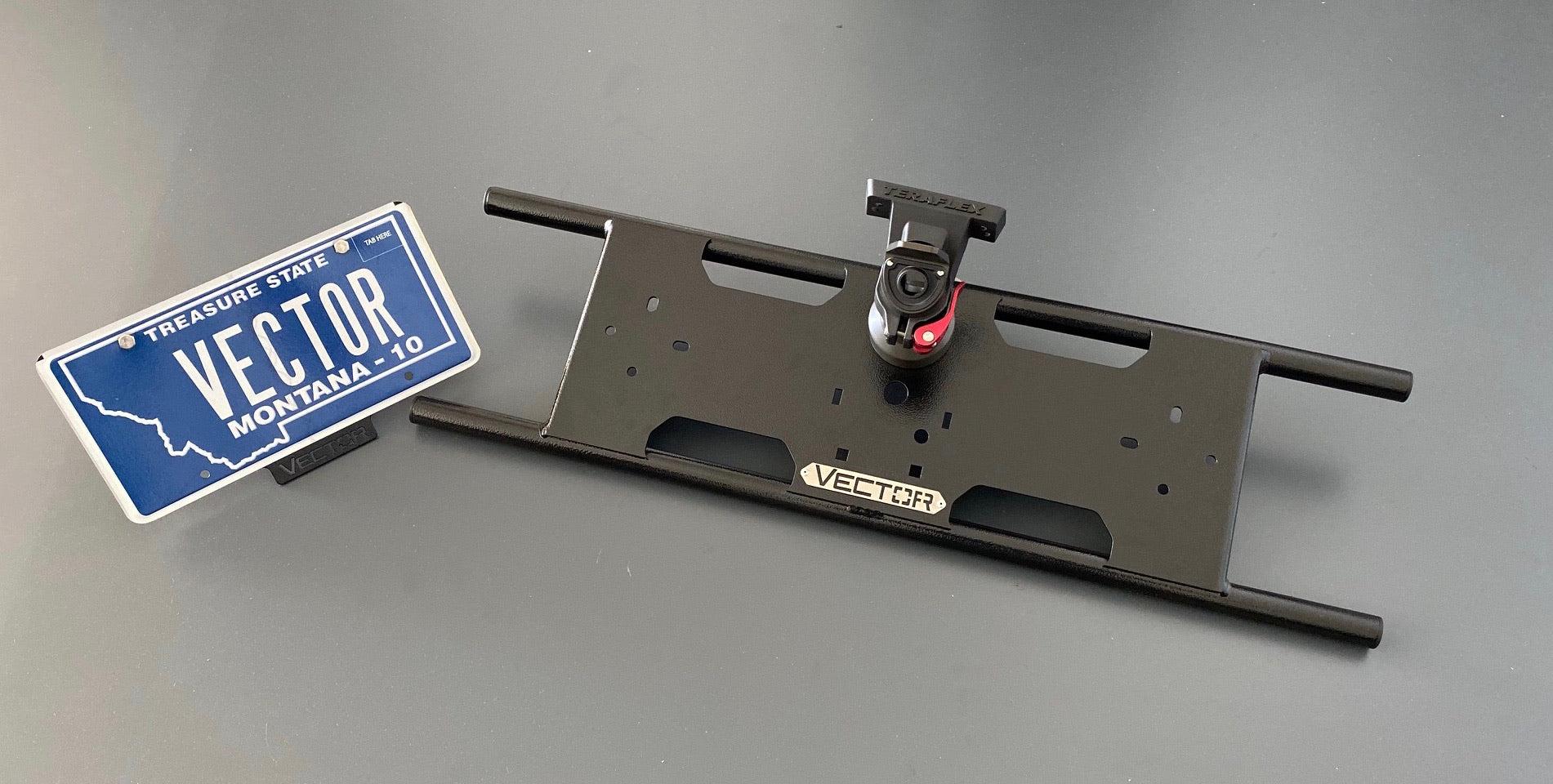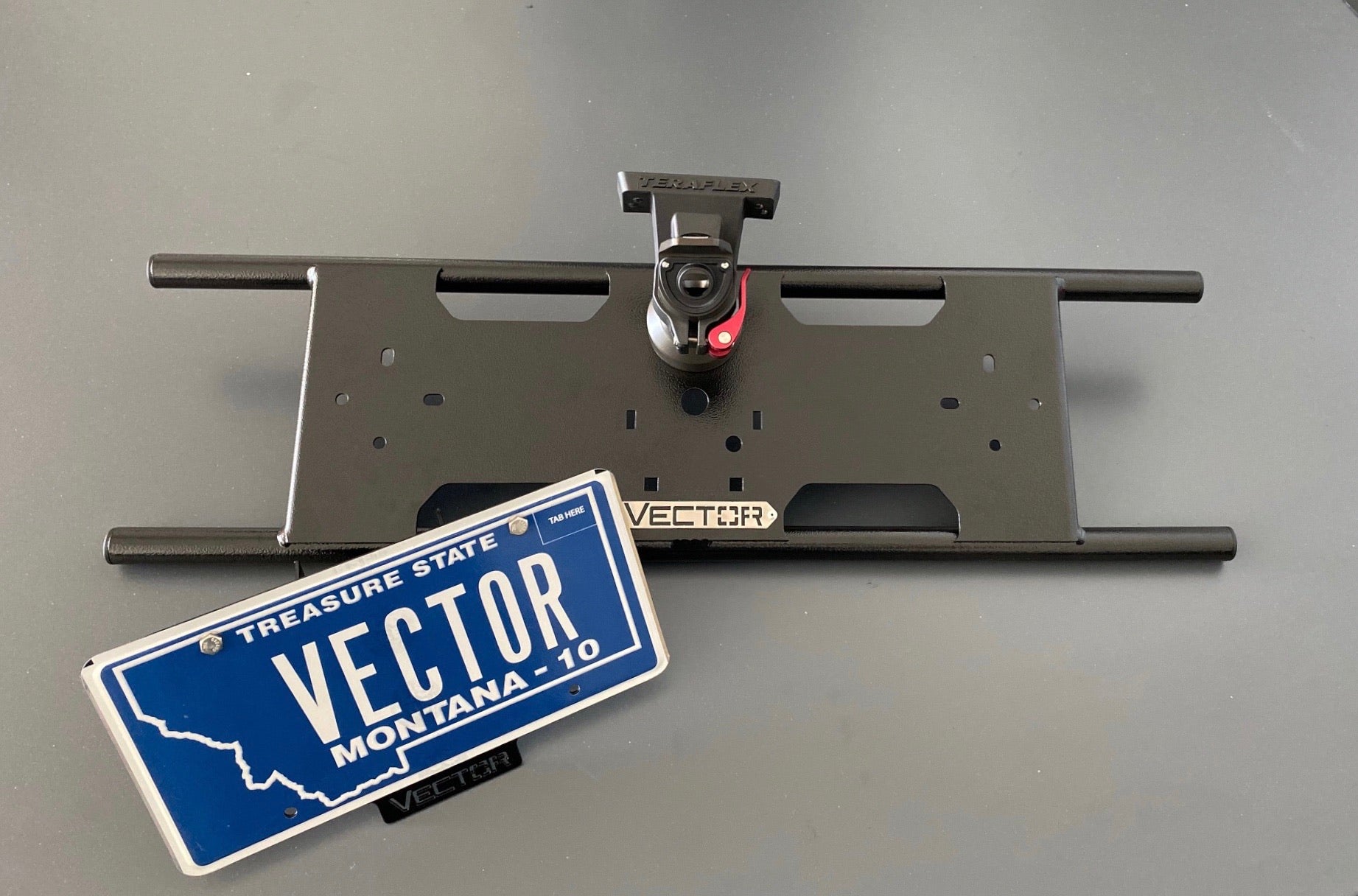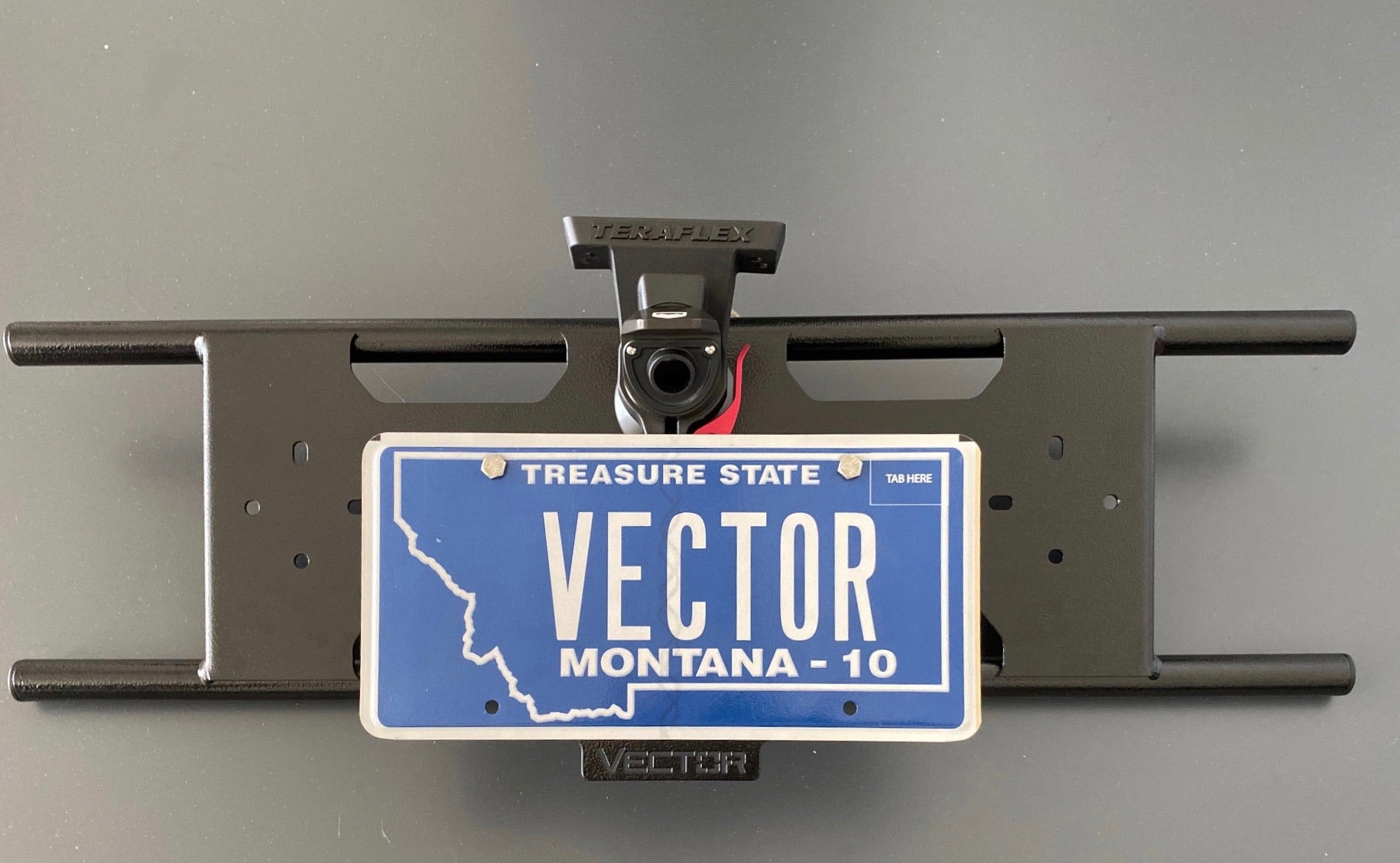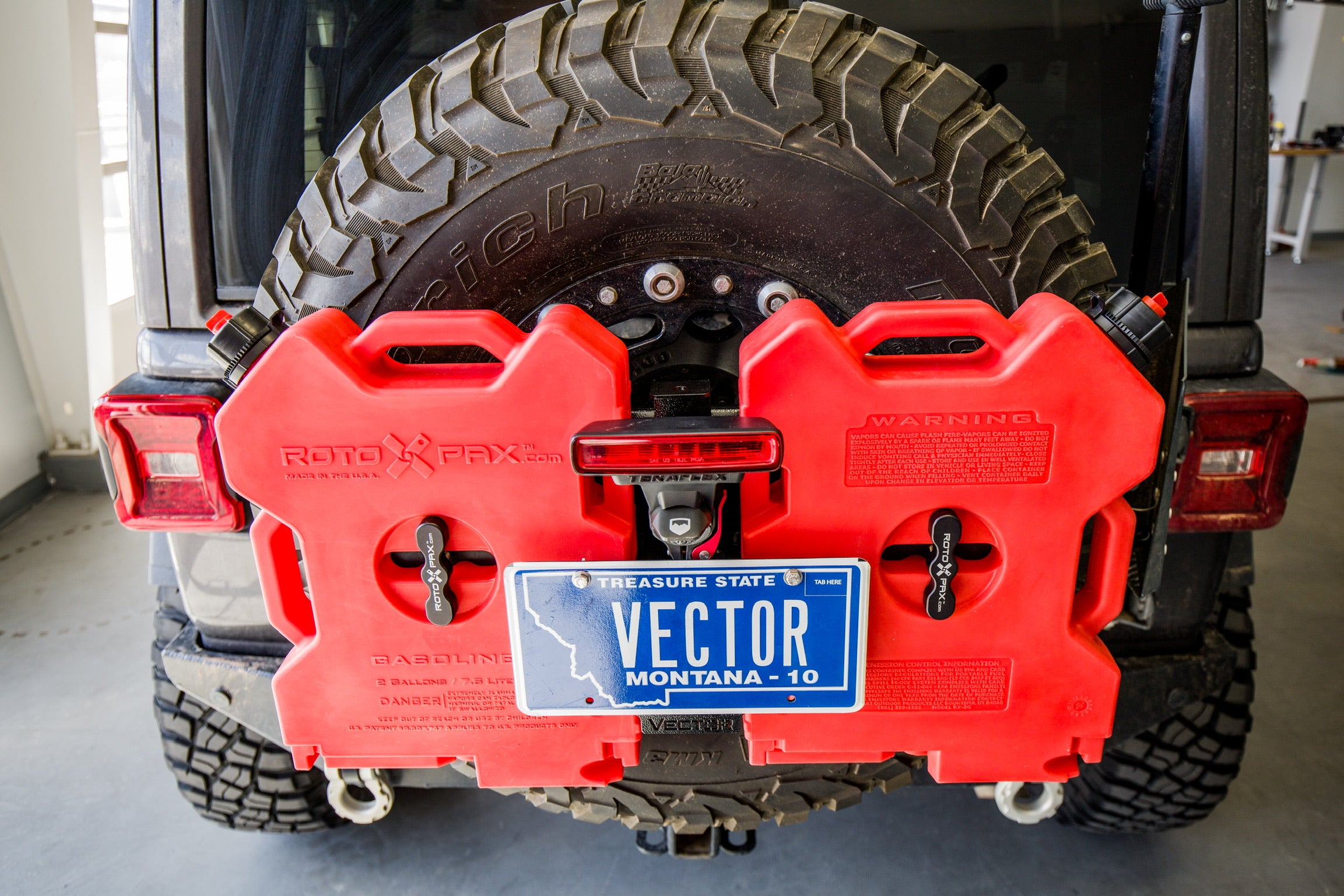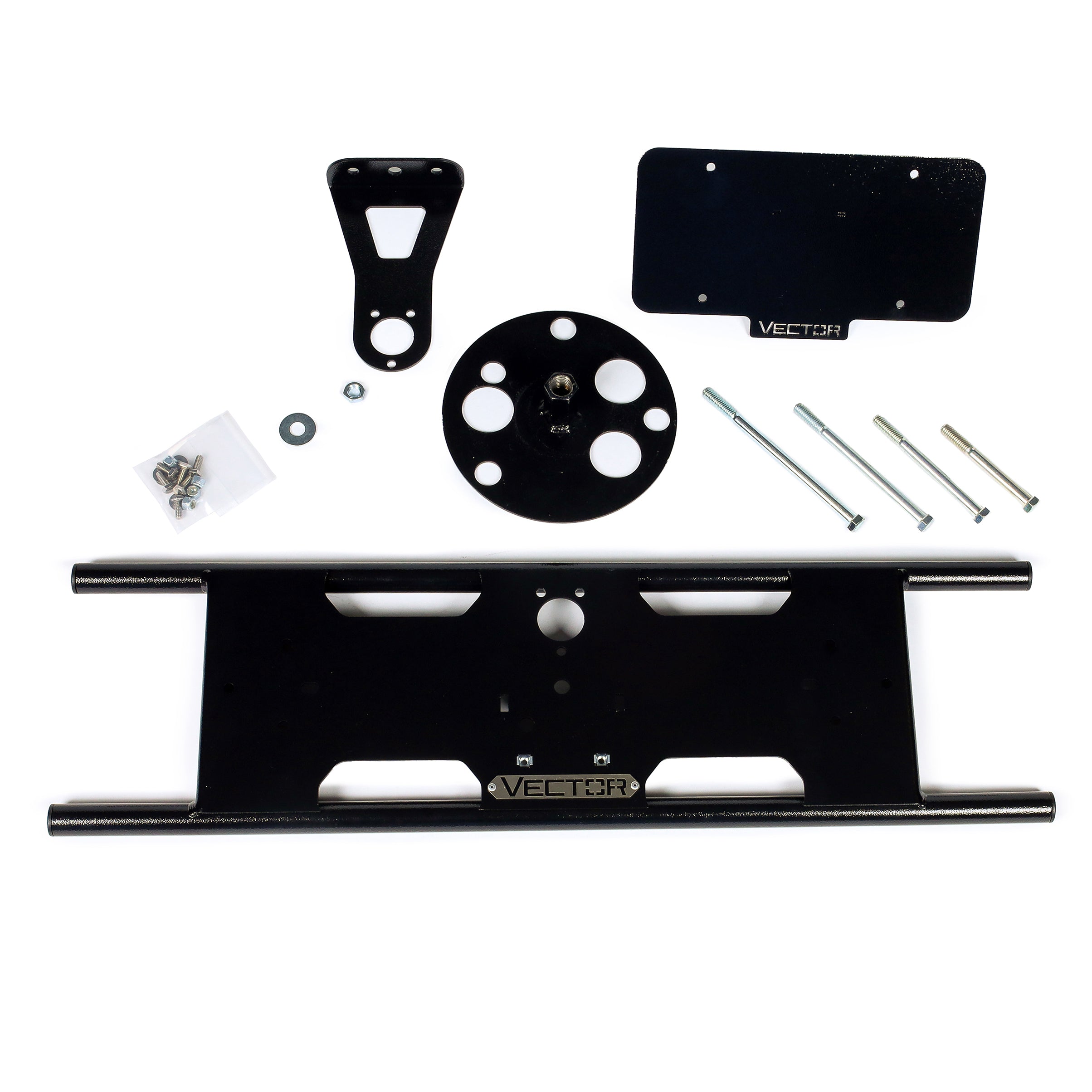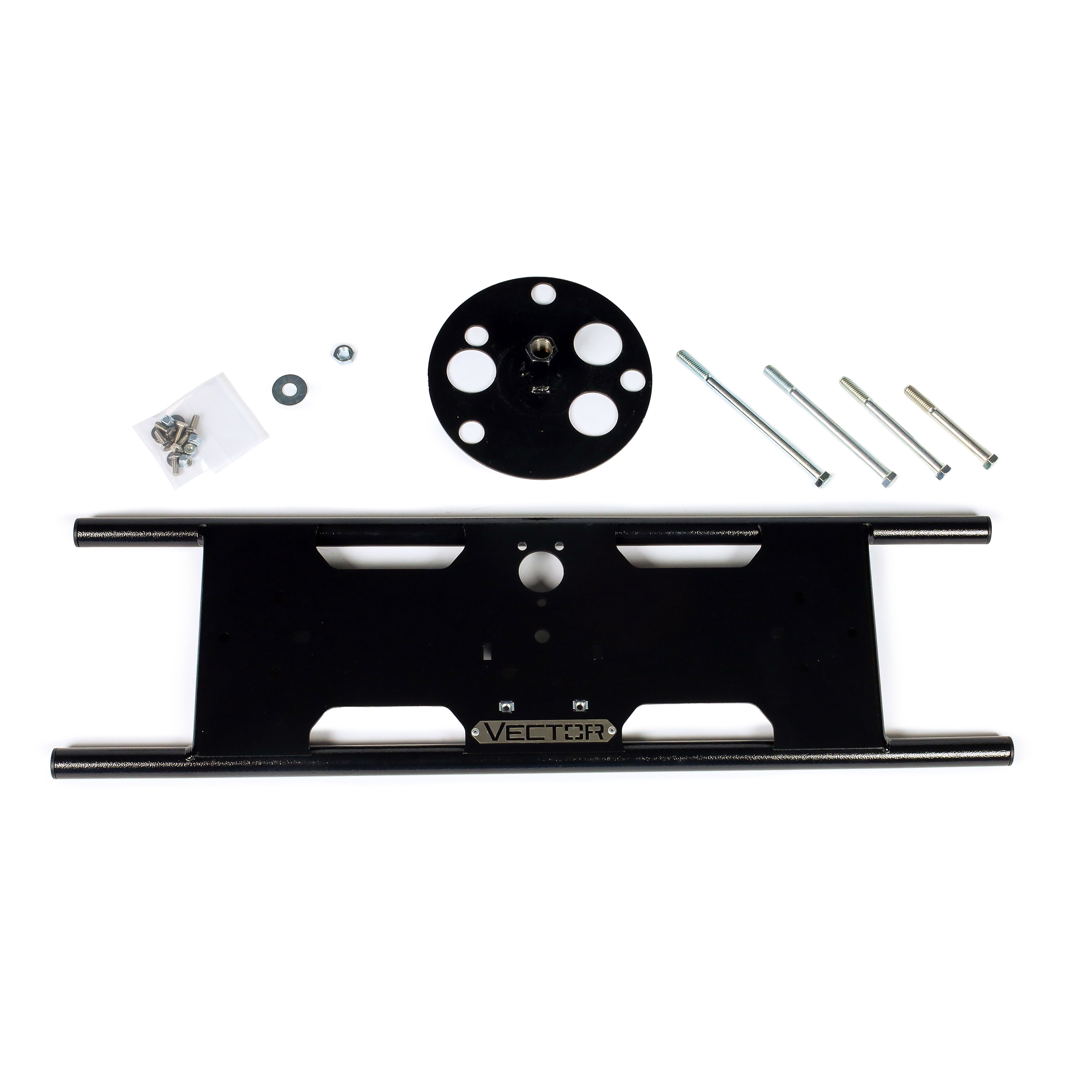 EXO RACK
Proudly Made in the USA
We recommend watching the installation video at the bottom of this page before purchase, to make sure it is compatible with your tire carrier.  This product works on factory JL tire carriers, only if the center moulded camera housing is removed (by cutting) from the factory carrier. The exo rack mounting plate, has to have a completely flat mounting surface where the hub of the wheels sits.  The video explains what is necessary on all tire carriers to be compatible with the Exo rack.
The Vector EXO-Rack is an add on to your tire carrier and is used to carry extra water, fuel and other vital supplies. The EXO Rack works by using a bracket that mounts between your tire carrier, and your spare tire wheel. The EXO Rack requires a minimum distance of 3" from the wheel mounting surface to the outer edge of the tire. 
Fits standard 3 lug tire carrier patterns of 5x5", 5x4.5", 5x5.5", 6x5.5", 8x6.5", 8x170mm. Please exercise judgement and caution when adding extra weight to tire carriers. Vector OffRoad is not liable if you overload your tire carrier and cause damage to yours or another vehicle. Consult with the manufacturer of your tire carrier for their total weight capacity rating.
The EXO Rack provides the following benefits:
Carry RotoPax Water/Fuel/Storage containers. The plate can hold up to qty  2-2 gallon RotoPax Containers in the vertical position as shown in our photos.

You must determine if your tailgate and tire swing can support the extra weight.

Re-Locate your license plate from the bumper, to the Exo Rack on your spare tire
Provision for maintaining your factory brake light, and backup camera included in this kit, with the Teraflex quick release camera and third brake light mounting packet
Rotopax, and Pack mounts sold separately, and are not included with this product
Provides a mounting point for a rear auxiliary or backup light.  Alternatively, the mount can be used for an antenna.
Re-use Factory wiring harness
Quick release thumb screws to remove the license plate bracket as needed
- Standard finish: Black Powder Coat
- Made in the USA
- Includes EXO Rack and sandwich base plate, Teraflex camera and brake light relocation kit, Light/antenna riser plate, license plate relocation bracket, and a variety of mounting bolts which fit 95% of the most common wheel offsets.  If the included bolts don't work on your setup, then you will need to source your own 7/16"-14 grade 5 bolt by whatever length you need.
**Product images may display optional accessories, configurations, or finishes. The actual product may vary slightly from what is shown. If you have any questions regarding what is included with a product, please contact us using the contact page.
{[{GetTitle()}]}
{[{item.Title}]}
{[{item.Price}]}